VDEh welcomed over 1,300 participants to the 6th ESTAD
From 12-16 June 2023, "METEC & 6th ESTAD", the largest iron and steel conference in Europe, was once again held in Düsseldorf. The Steel Institute, VDEh, organised the conference in parallel with the leading metallurgy trade fair, METEC, which was part of the trade fair quartet GIFA, METEC, THERMPROCESS and NEWCAST. This "Bright World of Metals" and ESTAD once again made Düsseldorf the metallurgical hub of the world for one week. The conference alone attracted 1,300 participants from over 40 countries.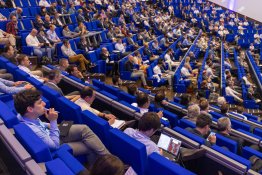 When the VDEh founded the European Steel Tech­no­logy and Applic­a­tion Days (ESTAD) ten years ago, the idea was to create a European metal­lurgy con­fer­ence as a coun­ter­part to the major con­gresses in North America and Asia. The idea was a flagship con­fer­ence bringing together steel man­u­fac­turers, sup­pliers, users, uni­ver­sities, research insti­tutes and plant engin­eers. The plan worked: Right from the start, the response to the new con­fer­ence concept was great, and this year ESTAD was once again the largest steel con­fer­ence in Europe with almost 550 present­a­tions. Steel experts from 240 com­panies from 33 coun­tries gave present­a­tions on the topics of Iron­making, Steel­making, Rolling & Forging, Industry 4.0, Steel Mater­ials as well as Hydrogen-based Steel­making. The largest rep­res­ent­a­tion came from com­panies from Germany, Austria, Italy, and Sweden – the nations from which the ESTAD cooper­a­tion partners VDEh, ASMET, AIM and Jernkontoret and the largest steel indus­tries in Europe exist. On the other side of the Atlantic, the USA, Canada and Brazil were strongly rep­res­ented, as well as from Asia, espe­cially, South Korea and Japan. In terms of sectors, plant con­struc­tion was in the lead in view of the upcoming trans­form­a­tion.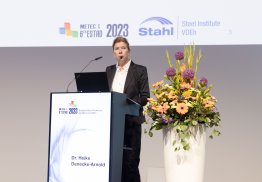 Despite the broad range of topics, this year's ESTAD was dom­in­ated by "Hydrogen-based steel pro­duc­tion". This was evid­enced not only by its own con­fer­ence session with over 100 present­a­tions, but also by a full-day keynote session under the motto "The steel industry on its way to green steel". The VDEh was able to win over almost 20 high-ranking decision-makers to present their strategies and solu­tions for a CO2-neutral future. Many of these speakers came from Europe, however with Ronald Ashburn from AIST and Shin Myounkyung from POSCO, for example, American and South Korean plans were also presented.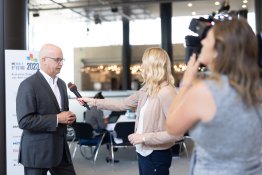 After a get-together on the eve of the con­fer­ence, con­fer­ence chair Heike Denecke-Arnold, COO thyssen­k­rupp Steel Europe, offi­cially opened the event on the morning of 13 June with a present­a­tion on the ESTAD history with its impressive facts and figures. She pointed out that ESTAD came at just the right time for the trans­form­a­tion of the steel industry. Henrik Adam, Chairman of the Steel Insti­tute VDEh, also emphas­ized the important role of METEC & ESTAD in this trans­form­a­tion: "Con­fer­ences as well as trade fairs are a hub for com­mu­nic­a­tion, ideas, and know-how. People from all over the world – in the case of ESTAD from more than 40 coun­tries – come together to further their know-how, to estab­lish networks and to exchange opinions and argu­ments". As such, he said, "it rep­res­ents an important com­ponent for the trans­form­a­tion. It will be the stage to present the European trans­form­a­tion to the world because CO2 neut­rality must not end at our borders". This was also emphas­ized by guest speaker, Karsten Pinkwart, member of the National Hydrogen Council, in his opening on the pro­duc­tion, trans­port and storage of hydrogen.
"METEC and 6th ESTAD come at exactly the right time for the transformation of the steel industry!"
Dr. Heike Denecke-Arnold, Conference Chair and COO thyssenkrupp Steel Europe
------------------------------------------------------------------
"The ESTAD is a hub for ideas, opinions and arguments. As such, it represents an
important component in the transformation of the steel industry."
Dr. Henrik Adam, Chairman Steel Institute VDEh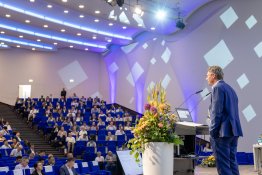 In the sub­sequent pro­gramme of the all-day keynote session on CO2 neut­rality, decision-makers from the steel industry, plant engin­eering, and asso­ci­ation work presented their concepts and solu­tions on the way to green steel. Only a few can be men­tioned here as examples:
Peter Juchmann, Head of Tech­no­logy Devel­op­ment Direct Reduc­tion at Salzgitter Flach­s­tahl, showed that with the company's own SALCOS project and optim­ised recyc­ling man­age­ment, climate-friendly primary steel pro­duc­tion would be possible as early as 2026 – and in the next step CO2 savings of up to 95 % in 2033. Luc Bol, Director Optim­isa­tion Iron & Steel at Tata Steel IJmuiden, cla­ri­fied that for a suc­cessful and sus­tain­able trans­ition, in addition to green hydrogen and renew­able energies, gov­ern­ment support as well as timely and careful permits were also neces­sary. Heike Denecke-Arnold, CEO thyssen­k­rupp Steel Europe, focused on process safety in green steel pro­duc­tion. She emphas­ised that in the tkH2Steel project the pro­duc­tion pro­cesses in the steel plant, including the con­verter, would remain in place. Proven quality concepts would there­fore not have to be changed, and sta­bility in the approval pro­cesses would continue to be guar­an­teed. Myun­gkyun Shin, Senior Vice Pres­ident of POSCO, presented the HyREX project, whose tech­no­logy can become an important factor in the future tight market for direct reduc­tion pellets: the pro­duc­tion of DRI (Direct Reduced Iron) from iron ore fines without upstream agglom­er­a­tion.
Electric steel com­panies are already one step ahead in climate neut­rality due to their pro­cesses. However, they also face major chal­lenges: On the one hand, the con­ver­sion of the energy used in the electric arc furnace to 100 % green power, and on the other hand, the effects of the trans­form­a­tion on the scrap market. This was the point of depar­ture for Jean-Frédéric Castagnet, Director Tech­no­logy & Innov­a­tion at Georgmari­en­hütte, who emphas­ised the neces­sity of further devel­oping the circular economy. Thomas Reiche from the FEhS Insti­tute then pointed out that a lot of research work will still be neces­sary to increase the quality and prop­er­ties of the new slags of CO2 neutral steel pro­duc­tion so that they can be a sim­il­arly sought-after product on the market as today's blast furnace slags.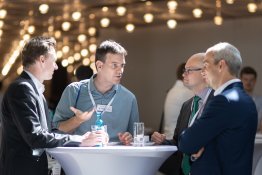 Special atten­tion was also paid to the tech­no­lo­gical solu­tions of the plant man­u­fac­turers for green steel pro­duc­tion, whose innov­ative strength will be one of the deciding factors for the success of the trans­form­a­tion. The focus was par­tic­u­larly on the various pos­sib­il­ities of hydrogen-based direct reduc­tion and the sub­sequent melting of the DRI in the Electric Arc Furnace and in the Open Bath Furnace or Sub­merged Arc Furnace. All plant man­u­fac­turers were in complete agree­ment that the trans­ition will take place world­wide at dif­ferent speeds and over decades. The EU, the USA and the Asian indus­tri­al­ised nations would start installing green steel pro­duc­tion, but politics and markets will need time to create incent­ives and con­di­tions for the green trans­form­a­tion. Estab­lishing a defin­i­tion of "green steel", a green label system and the creation of green lead markets are the chal­lenges here.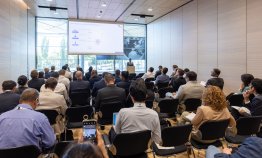 In the almost 550 spe­cialist present­a­tions on the second and third days of the con­fer­ence, par­ti­cipants were able to obtain com­pre­hensive inform­a­tion on the latest devel­op­ments in the fields of iron and steel pro­duc­tion, rolling and forging, digit­al­isa­tion and Industry 4.0, surface tech­no­logy, steel mater­ials and additive man­u­fac­turing, and of course CO2 reduc­tion, envir­on­mental pro­tec­tion, and energy. Across sessions, the content focus was on direct reduc­tion, hydrogen metal­lurgy, melting down DRI, AI in pro­duc­tion to self-learning steel­works, mod­el­ling of pro­cesses, optim­isa­tions of the circular economy, purity levels of steels, new steel mater­ials and additive man­u­fac­turing. With these focal points, ESTAD served the two major topics of decar­bon­isa­tion and digit­al­isa­tion on the one hand, but also the tra­di­tional topics of iron and steel pro­duc­tion on the other. After three days of lectures and dis­cus­sions, ESTAD con­cluded its pro­gramme on 16 June with plant visits to thyssen­k­rupp Steel, Hüt­ten­werke Krupp Man­nes­mann, ArcelorMittal Duisburg, Tata Steel IJmuiden, and Deutsche Edel­s­tahl­werke Spe­cialty Steel Witten.
With its number of par­ti­cipants and lectures, as well as the broad and modern range of topics, ESTAD was able to write an absolute success story. Fur­ther­more, the Steel Insti­tute VDEh as the organ­iser was par­tic­u­larly pleased to be able to give metal­lur­gists and mater­ials engin­eers from all over the world, once again, a platform and meeting point to exchange ideas, par­tic­u­larly, after the many years-long pandemic. Because without this, the trans­form­a­tion will not succeed.