The end products of the steel industry include, among others, Hot and Cold Rolled Strip, Heavy Plate, Profiles, Bars, Wire Rod, Bright Steel, Open Die Forgings as well as Rolled Disks and Rings. They are produced by forming the input material (slabs, ingots and billets) using high technology plants.
Hot rolling is one of the forming processes that follow casting – both ingot casting and continuous casting. The semi-finished workpieces are reheated to about 1250°C and reduced to the defined thickness through the pressure in the roll gap of the hot rolling mill.
A complete hot rolling mill consists of:
input material depot
reheating furnaces
descaling facilities
roughing train and finishing train with a varying number of stands and stand types
cooling equipment
finishing lines
finished product depot
roller tables, connecting the individual areas of a hot rolling mill with one another
measurement and testing equipment
roll workshop
Hot Rolling Mill for Production of Hot Strip and Heavy Plate
Slab casting is followed by hot rolling. The semi-finished steel slabs are taken from the depot are then reheated to about 1250°C. Through the pressure in the roll gap of the hot rolling mill the thickness can be reduced as defined. As the volumes of the slabs remain constant, there are changes in the length and width.
Example: A Conventional Wide Hot Strip Mill
Slabs with thicknesses of between 20 and 30 centimetres are collected from the depot and reheated to the necessary rolling temperature in the reheating furnace. Shortly after leaving the furnace, the red-hot slab is descaled.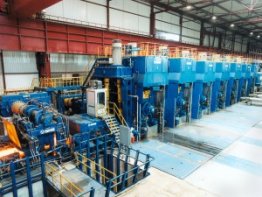 © thyssenkrupp Steel Europe AG
The slabs are then rolled to rough strip with a thickness of about 25 – 40 mm in the roughing train, using a reversing process. Before the strip is given its final dimensions in the finishing train, both ends of the strip are cut perpendicularly and the newly formed mill scale is removed.
The finishing train generally consists of five to seven consecutive rolling stands. During rolling, the strip is located in all the stands simultaneously and travels onto the run out table at final rolling speeds of about 20 metres per second. The mechanical properties of the hot strip are adjusted by means of regulated cooling using water in the subsequent cooling zone, which is about 100 metres long. The strip is then wound into coils, with diameters of about two metres.
Wide hot strip is produced in widths of from 600 to 2,300 mm and with thicknesses of from 0.8 to 12 mm. Narrow strip with widths of below 600 mm is produced on medium-wide hot strip mills.
Heavy plate is produced in widths of up to 5,000 mm and thicknesses of from 3.5 to 250 mm. Only quarto reversing stands are used here, with two rolls acting as work rolls and two more as backup rolls. The stand entry area is equipped with a system for turning the slabs through 90° so that heavy plate can be produced in widths exceeding the slab width. The mechanical-technical properties are adjusted by means of defined temperatures during the rolling process – in other words, through normalising rolling, thermomechanical rolling and accelerated cooling. Finishing with straightening and cutting, as well as the logistics, are of particular importance in heavy plate rolling mills.
Cold Rolling Mill for Production of Cold Strip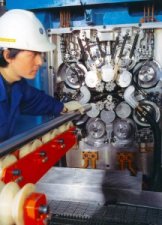 Hot-rolled strip is rolled even thinner by means of cold rolling at room temperature. Adjustments made during this process result in the desired processing properties of the strip.
Cold-rolled thin sheet is mostly produced with thicknesses of from 0.4 to 3.0 mm and widths of up to 2,010 mm. Ultra-thin sheet is 0.12 to 0.49 mm thick and is largely used as an input material for the packaging industry.
Cold rolling consists of the following process steps:
Pickling
The layer of scale on the hot strip is removed from endless strip in continuous pickling lines or from individual strips in push-pull pickling lines.
Cold Rolling
The pickled strip is cold rolled as endless strip in a tandem mill or as individual strips in a reversing stand. Tandem mills consist of 4 – 6 quarto stands arranged in a row and the strip is located in all the stands simultaneously. The pickling line and tandem mill can be run coupled with one another by means of an intermediate storage system for the strip (looper).
20-roll stands, so-called Sendzimir planetary rolling mills, have become established for cold rolling stainless steels. They can best meet the demands for high forming levels, tight tolerances and good surface quality..
Annealing
The material hardened during cold rolling must undergo recrystallising annealing to restore the forming properties for further processing. This takes place in batch annealing or in continuous annealing lines. In order to ensure that the surface quality achieved during cold rolling is retained, annealing must be carried out under a protective gas atmosphere or under oxygen exclusion in order to suppress oxidation.
In the case of batch annealing, several coils are stacked on a base and annealed below a hood for about of 2 – 3 days.
Continuous annealing lines permit flexible annealing cycles with higher heating and cooling rates, as necessary for heat treating high-strength steel grades, among others.
Skin-Pass Rolling
A yield-point elongation is overcome with this process step; the sheet surface is smoothed or deliberately roughened and compacted.
Finishing
In this final work step the material is inspected for surface defects in coil preparation lines and provided with corrosion-protection. Depending on requirements, the strip is slit into narrower strips or cut-to-length to make sheets. Then the material is packaged and prepared for despatch. There may, however, be a final surface-finishing process.
Long products are steel bars, wire rod, reinforcing steel, and profiles such as rails, sheet pile, as well as I-, H- and U-profiles.
Rolling takes place in rolling mills specialised for the product groups. There are:
bar mills
wire mills
combined bar and wire mills
profile and rail mills
other section mills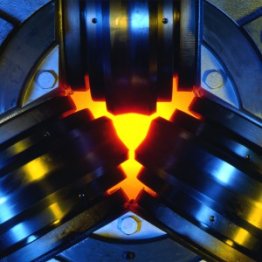 Continuously cast billets or near-net-shaped cast beam blanks (pre-forms of profiles and rails) are used as input material. After heating to rolling temperature, the input material is descaled and rolled in calibrated rolls – with as few rolling passes as possible – to create the final profile cross-section. The rolled sections are measured whilst still in the stand. After cooling of the rolled products they undergo finishing and further inspections and, if necessary, straightening processes before packaging and dispatch.
Recent developments have focused on:
thermo-mechanical rolling: targeted material properties are generated directly from the rolling heat.
free-size-rolling of steel bars: permits the rolling of numerous final dimensions from the same calibre, solely as a result of roll adjustment.
beam and profile rolling from beam blanks.
increased automation due to better control engineering.
Bright steel represents a further processing stage of hot-rolled or forged steel bars and wire. It is primarily intended for direct use by customers in the automotive and machine construction sectors. So very high demands are made of dimensional accuracy, surface finish and flawlessness.
Bright steel is produced by means of peeling or drawing. Peeled bright steel is always round, generally with a diameter of 14 mm or greater. Varying cross-sections can be formed using drawing.
Peeling is a machining process. It differs from turning in that the tool, the peeling head, rotates around the rod during its passage through the plant. As a result of the machining, the surface of peeled bright steel is free from surface defects and decarburisation.
Drawing is a non-cutting cold-forming process. The hot-rolled descaled input material receives its final character in several drawing steps. Drawn bright steel is generally strain-hardened.
After peeling or drawing, the round rods are polished and straightened. In the case of round bright steel, there may then also be an additional milling process as well as planing and chamfering of the ends.
Bright steel is specially packed for transport to the customer to prevent mechanical damage and corrosion.
It is not unusual for a stock of bright steel to number several thousand items – due to the variety of steel grades, the surface designs, lengths, tolerances and processing.