04. bis 07. October 2022
11th European Slag Conference
Euroslag is the European association of all major organizations and companies involved in all aspects of the production and use of iron slag products. The association is concerned with the promotion of slag as a product, enables the exchange of information and research results, and facilitates cooperation with the relevant bodies. Every year, 45 million tons of ferrous slag (iron and steel slag) are generated in Europe, a real challenge for the circular economy.
---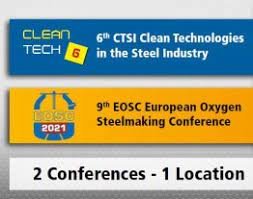 17. bis 21. October 2022
9th EOSC and 6th CLEAN TECH 2022
EOSC represents the most comprehensive expert knowledge in oxygen steelmaking, whereas CLEAN TECH provides a forum for researchers and steel manufacturers to review recent developments in environmental protection and CO2 reduction in steelmaking. The joint conference is aimed at creating a platform for technical exchanges at an international level among experts involved in steelmaking, who will also present state-of-the-art technologies, developments, and trends related to oxygen steelmaking and energy efficiency.
80 high-quality abstract submissions from key players across the industry have been submitted to date. We look forward to more contributions in the coming weeks.
For more information, feel free to visit the event website
---

26. bis 28. October 2022
12th International ROLLING Conference
Thanks to a long and successful series of events, the ROLLING conferences have become the most important international event for rolling practitioners worldwide. The target audience includes the entire metal rolling industry: flat and long products, hot and cold rolling, and the rolling of ferrous and non-ferrous metals. The forum will address product and process topics that include rolled product properties, quality and applications, as well as equipment design, control and management.
The conference will bring together rolling practitioners, steel producers, plant designers and researchers and provide a forum for best practices and cutting-edge technologies. It will also look at developments in the foreseeable future.
---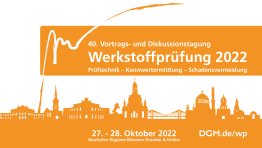 27. und 28. October 2022
40. Vortrags- und Diskussionstagung Werkstoffprüfung 2022
The "Materials Testing" conference series organized this year by the DGM - Deutsche Gesellschaft für Materialkunde e.V. in cooperation with the VDEh Steel Institute and the DVM Deutscher Verband für Materialforschung und -prüfung e.V. is entering its 40th round. Instead of taking place in December as usual, this year it will already be held in the fall from October 27-28, 2022. The established lecture and discussion conference Materials and Components on the Test Bench - Testing Technology Characteristic Value Determination - Damage Prevention is organized in a hybrid way. It will take place both online and in attendance. The venue is the German Hygiene Museum in Dresden.
Without doubt, "Materials Testing" has established itself as an authoritative forum for the presentation and discussion of advances in the field of characterization of material properties. This includes all material groups and their differentiated manufacturing processes as well as the validation of property changes associated with the individual processing steps. The conference will present advances in the entire field of testing and measurement technology as well as application-relevant problems in materials testing and their solutions. Exhibitors will show their innovations and will be actively involved in the lecture program with short presentations. In addition to mechanical and technological materials testing, the conference is open to the discussion of all testing methods with which the structural and functional properties of materials and components can be qualitatively assessed and quantitatively measured.
The event is aimed at all those in industry and scientific institutes who are involved in the testing and characterization of materials and components, as well as in damage analysis and damage prevention. The main topics, which are updated annually by the program committee, serve to cover classic topics and current trends in equal measure.
---

25. November 2022
45. Vortragsveranstaltung der Forschungsvereinigung Warmfeste Stähle und Hochtemperaturwerkstoffe (FVWHT)
This year's 45th lecture event of the Research Association Heat Resistant Steels and High Temperature Materials (FVWHT) will present requirements and associated solution approaches for the long-term behavior of base materials and welded joints in the elevated and high temperature range.
Material behavior in the temperature range from 450 °C to 1200 °C is of utmost relevance for material manufacturers, component manufacturers and plant operators alike. In the Research Association for Heat-Resistant Steels and High-Temperature Materials (FVWHT), companies along the entire process chain, supported by university materials testing institutes, are therefore working together to characterize the long-term behavior of relevant material concepts so that they can be used to implement efficient designs and operate plants in an economically viable manner.
Location: Sohnstraße 65, 40237 Düsseldorf, Germany
Translated with www.DeepL.com/Translator (free version)
---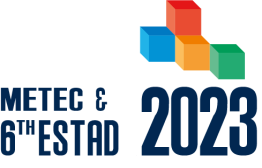 12. bis 16. June 2023
METEC & 6th ESTAD (European Steel Technology and Application Days)
Congress Centre Düsseldorf, Germany
Only those who continue to develop their businesses remain competitive. The prerequisite for this development means being constantly informed about the latest and most sophisticated technological advances, exchanging ideas and initiating and expanding networks with clients, partners and suppliers. The 6th European Steel Technology and Application Days (ESTAD) 2023 ran in parallel with the METEC Trade Fair.
The Steel Institute VDEh and its partners offer visitors the perfect opportunity to reach their objectives. At this event you acquire the latest information on new ideas and developments as well as on the state-of-the-art in metallurgical process technologies for iron and steel production, steel materials and steel application.
---
26. bis 29. September 2023
UNITECR 2023
"The Carbon Challenge: Steps and Leaps to Master the Future" is the motto for UNITECR 2023 in Frankfurt. The shift from carbon-based to hydrogen-based steelmaking and the replacement of fossil fuels in high-temperature processes will have an impact on refractory materials. New technologies will require new lining concepts. Modified and new refractory lining concepts will also help save energy and reduce carbon emissions for existing technologies and processes.
The Unified International Technical Conference of Refractories (UNITECR) is a biennial international conference that, according to its official charter, contributes to the advancement and exchange of industrial knowledge and technologies in the field of refractory materials.
Watch here: Unitecr 2023
---